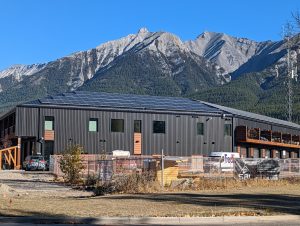 Pathways to Energy Democracy in Canada
Rapid changes in the energy system hold tremendous potential for social change. But changes to the energy system also risk underpinning the status quo and exacerbating issues of access and affordability across many parts of the country. According to Riva et al. (2021), 6 to 19 percent of Canadian households experience energy poverty – a concern that motivates our collective interests in energy democracy and energy justice.
Community-based renewable energy 
Our collective efforts seek to realize more equitable and accessible forms of energy production and distribution that can support local communities and local livelihoods. Yet, there is very limited research in Canada on the possibilities and limits of expanding community-based renewable energy (CRE) projects (particularly co-operatives). We know even less about how well existing projects are meeting their economic, social and environmental objectives.
With these concerns in mind, the development of CRE projects in Canada are at the heart of this project. In particular, we explore the possibilities for advancing these types of projects as manifestations of energy democracy and energy justice to meeting the needs of diverse and evolving rural, urban and Indigenous communities.
Four work packages
Financial and organizational structures – distinguish the financial mechanisms, incentives, principles and organizational models that are needed to achieve renewable energy success within Indigenous and non-Indigenous communities.
Regulatory and policy reforms – recognizing diverse federal and provincial jurisdictions that prefigure organizational structures, utilize comparative analysis with jurisdictions within and beyond Canada, identify crucial regulatory, procedural and policy reforms for CRE success.
Cultural diversity and political polarization – through regional analysis, explore and articulate distinctive socio-cultural norms, socio-technical imaginaries and political polarities that govern the evolution of renewable energy technologies and organizational forms.
Unintended consequences and social acceptability – with politics and preferences as a key driver (or a roadblock to change), identify unintended consequences, including enduring injustices associated with the deployment of renewable energy technologies.
We draw on numerous disciplinary backgrounds, international networks, robust methods and inter-provincial comparative datasets to build knowledge, extend learning, and enhance energy transition.
Co-applicants and Collaborators
Areas of expertise on our research team include environmental sociology (Parkins, Chewinski), economics (Marcoul, Pigeon), political science (Banack), geography (Noble, Hoicka), public policy (Boucher, MacArthur, McMurtry, Tarhan), and communications (Pigeon).
Funding
Pathways to energy democracy in Canada. Social Science and Humanities Research Council (SSHRC), Insight Grant, $338,000 (2023 – 2027). PI: Parkins (Alberta). Co-applicants: MacArthur (Royal Roads), Boucher and Pigeon (Saskatchewan), Marcoul and Banack (Alberta).